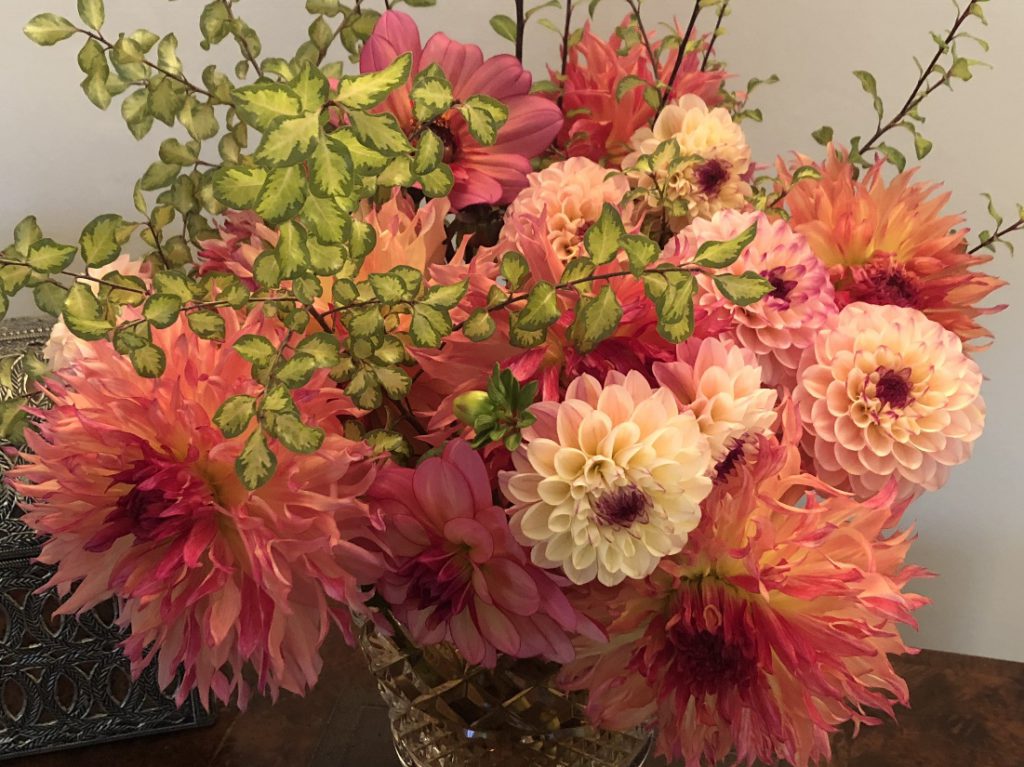 I have always grown dahlias, and when we moved to Rye I brought a few of my favourites with me. Chat Noir and Rip City from Sarah Raven (deep red almost black), a small orange one named after an old friend of my mother's and a large pink one nicknamed Aunt Nellie (sadly died in 2020). We acquired our allotment in 2012- covered with couch grass- but having cleared the right side, this became my dahlia bed. Initially people were somewhat snooty about the dahlias- but after I had won a prize at the annual show, more people started growing them and now many of the allotments on South Undercliff have them and it has become very competitive!

Now is a good time to start thinking about Summer 2021. There are many different types and you can easily buy them mail order. I always try a couple of new ones every year. If you don't want to start from scratch, local garden centres have a good selection of plants in May/June.
I don't have a greenhouse, so start the new tubers in compost in large pots in March in the house. Once the risk of frosts is over, they go out in the garden. In April, the dahlia bed is uncovered- and we wait to see what has survived the winter. Usually, one or two don't do – but that's an opportunity for the new ones. The posts stay in place and the plants are supported by garden string between them.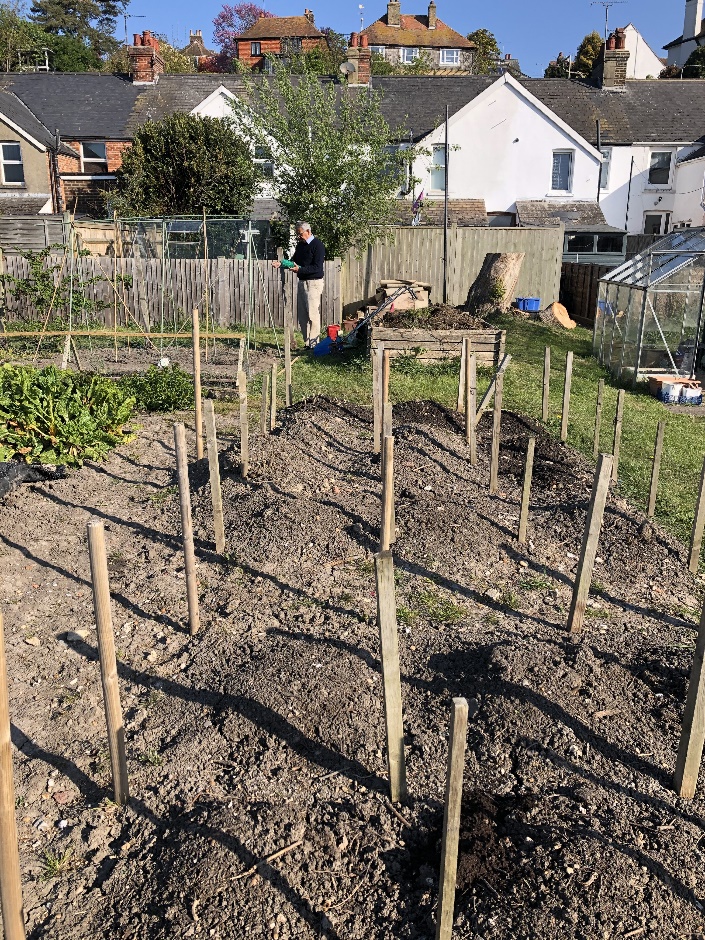 By July, there is usually a good display. Some of the plants are 5 feet high. One of the important things is to keep picking. One can usually find people who are happy to have a bunch, but if not, it is important to keep dead heading.
If dry, it is important to water. I don't regularly feed them, but occasionally water with tomato feed. Pests aren't much of a problem. Dahlias notoriously get infested with earwigs, but we haven't found this to be a problem. Last year, everything on the allotment had blackfly- and we treated this mainly with soapy water.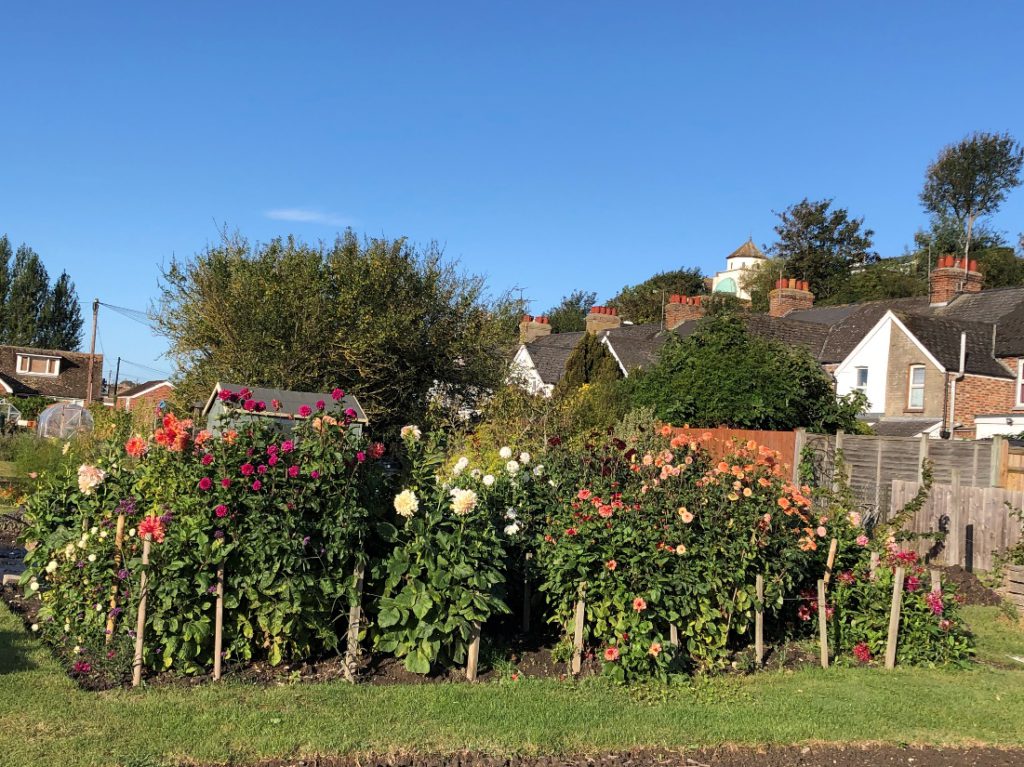 I picked the last dahlias in 2020 in November- so they flower for about 5 months.
Just before the first frosts, we cut them to the ground, cover with a thick layer of compost and then put old carpet on top. Apologies if it isn't pretty- but it keeps them going through the winter!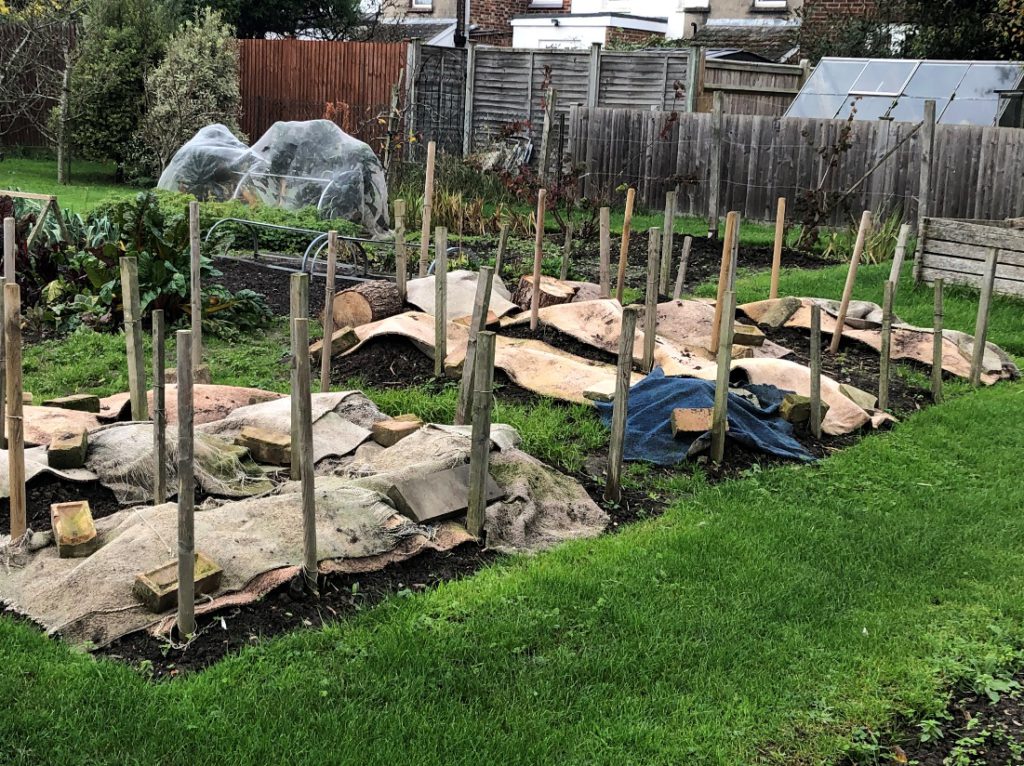 I look forward to seeing all the dahlias at the show in August. Good Luck!