There's something about gardening that inspires sharing. Not just seeds and produce but knowledge and experiences too. We are asking Rye Flower and Veg Show supporters and entrants to send us anything they'd like included via the contact us page
We are delighted to welcome Shelley as our very first blogger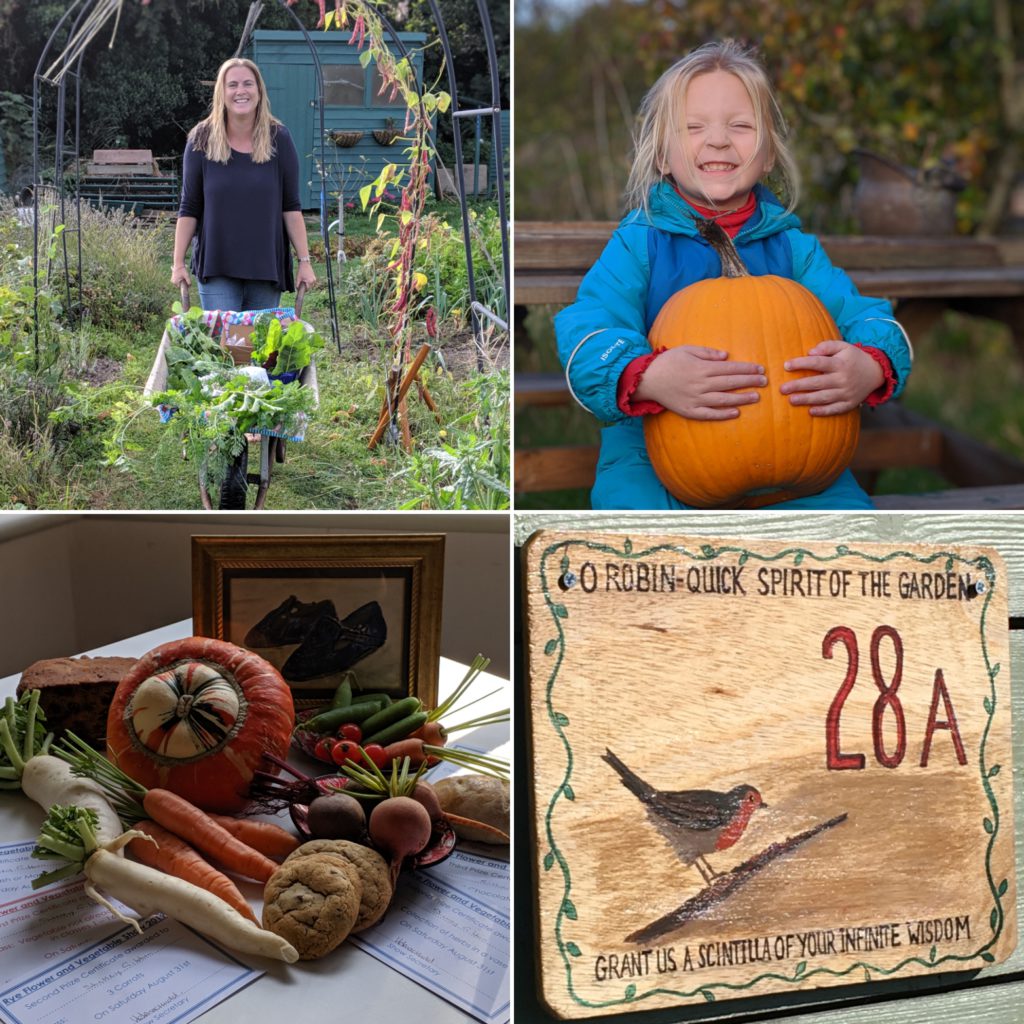 Hello, my name is Shelley and I rent an allotment in Rye with my husband, daughter, Mum and Dad. We started with a half plot in March 2018 and after our first successful growing season the half plot next door to us became available, so we couldn't resist taking on a little bit more growing space!
The allotment has become a key feature in our lives. It is a space where we can all come together to socialise, to grow and to play. When I was growing up my parents grew vegetables and tended fruit trees in our back garden, we also had a local allotment plot for a little while (nicknamed Number Eight the State!) . I used to love helping out and experiencing the seasons change. I was also a big fan of Tom and Barbara striving for self-sufficiency in the wonderful BBC programme The Good Life. I'm still searching for the perfect pair of Barbara-esque dungarees!
I was keen for my daughter, Elsie, to experience the joy of planting nurturing and consuming home-grown produce. She loves visiting other plots to say hello to the chickens, watching the bees buzz in and out of their hives and checking for newts in the pond. Elsie also has her own border on our plot where she chooses what to plant and makes sure that it's watered. Gertrude Jekyll (1843-1932), the British horticulturist, once wrote 'A garden is a grand teacher. It teaches patience and careful watchfulness; it teaches industry and thrift; above all it teaches entire trust' – all worthy attributes to nurture for 21st Century life.
We were made to feel welcome on the allotments straight away and seasoned allotmenteers were keen to offer advice, share seedlings, produce and tools. There have been some wonderful barbeques and firework displays that bring the allotment community together. We've also taken part in the fabulous Rye Flower and Veg Show in both 2018 and 2019 and were thrilled to win various awards for our entries!
At first I was a little wary, thinking that taking part in a show might be cliquey and intimidating but we were warmly welcomed and great interest was shown in our entries and our growing adventures. One of my lasting memories is of Elsie clapping wildly for every win in every single category!
We were sad that COVID-19 put a stop to the show this year, but the creation of this website and the thought of next year has cheered us immensely. Being able to visit the allotments over this strange time has brought much solace and has provided some notion of normality. We feel very lucky to have kept our sanity and our health during the last five months.
Alongside the human interaction we have enjoyed participating with the online gardening community on Instagram, where we've found other newbie allotmenteers, found new ideas for our plot and picked up tips from other, more experienced growers. You can find us @allotment28a where I post photos of what we've been up to, what we've been making and what we've been eating.